Spotted Crown Cocktail Ring
Regular price
$ 98.00 USD
Regular price
Sale price
$ 98.00 USD
Unit price
per
Shop In-person

SEATTLE BOUTIQUE

6120 Phinney Ave N, Seattle WA 98103 USA.

+1(425) 500 -6463

FREMONT SUNDAY MARKET

Sundays. 3401 Evanston Ave, Seattle WA 98103 USA.

SOUTH LAKE UNION MARKET

139 9th Ave N, Seattle, WA 98109, USA.

BURIEN FARMERS MARKET

Thursdays. 427 SW 152nd St, Burien, WA 98166.

GEORGETOWN Flea Market

1st Saturday of every month. 10- 4 PM.

5805 Airport Way S, Seattle, WA 98108 USA.

SODO Flea Market

2nd Saturday of every month. 10- 4 PM.

3701 7th Ave S, Seattle, WA 98134, USA. 
Care & Warranty
DESCRIPTION
Bold Sterling Silver ring, featuring a design of raised spots and finished on an oxidized background that enhances the sterling effect. The band is finished on a high polish obtained by hand. A statement ring that will be breathtaking and flattering.
DETAILS
Designed in the US
Made in Mexico
Please select your size above
Net Weight: 10 grams
Thickness of band: 1.5 mm
Width of band: 6 mm
Sterling Silver .925
 SKU: JRCR001

-
mrvilos.com / ® 2014 - 2023
Share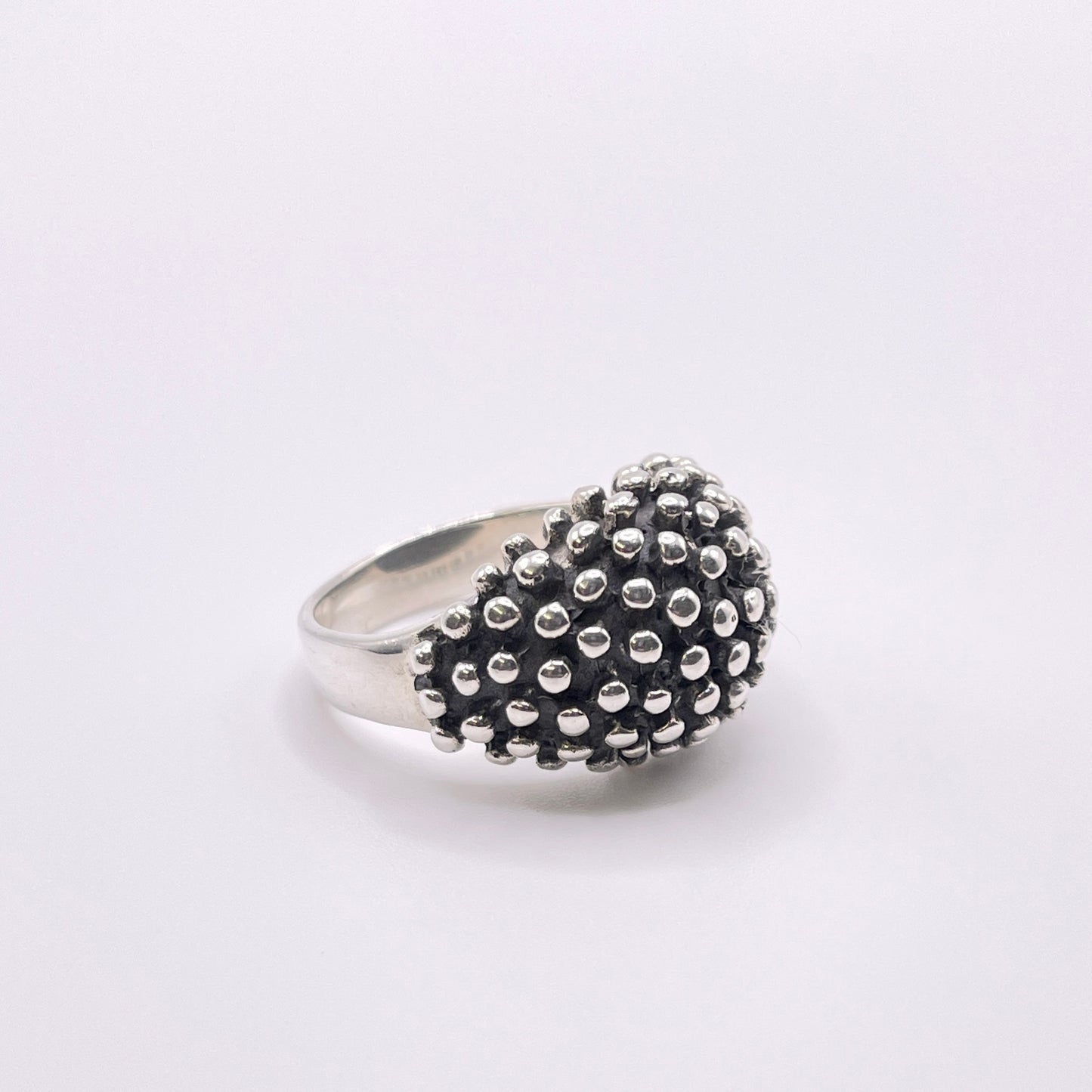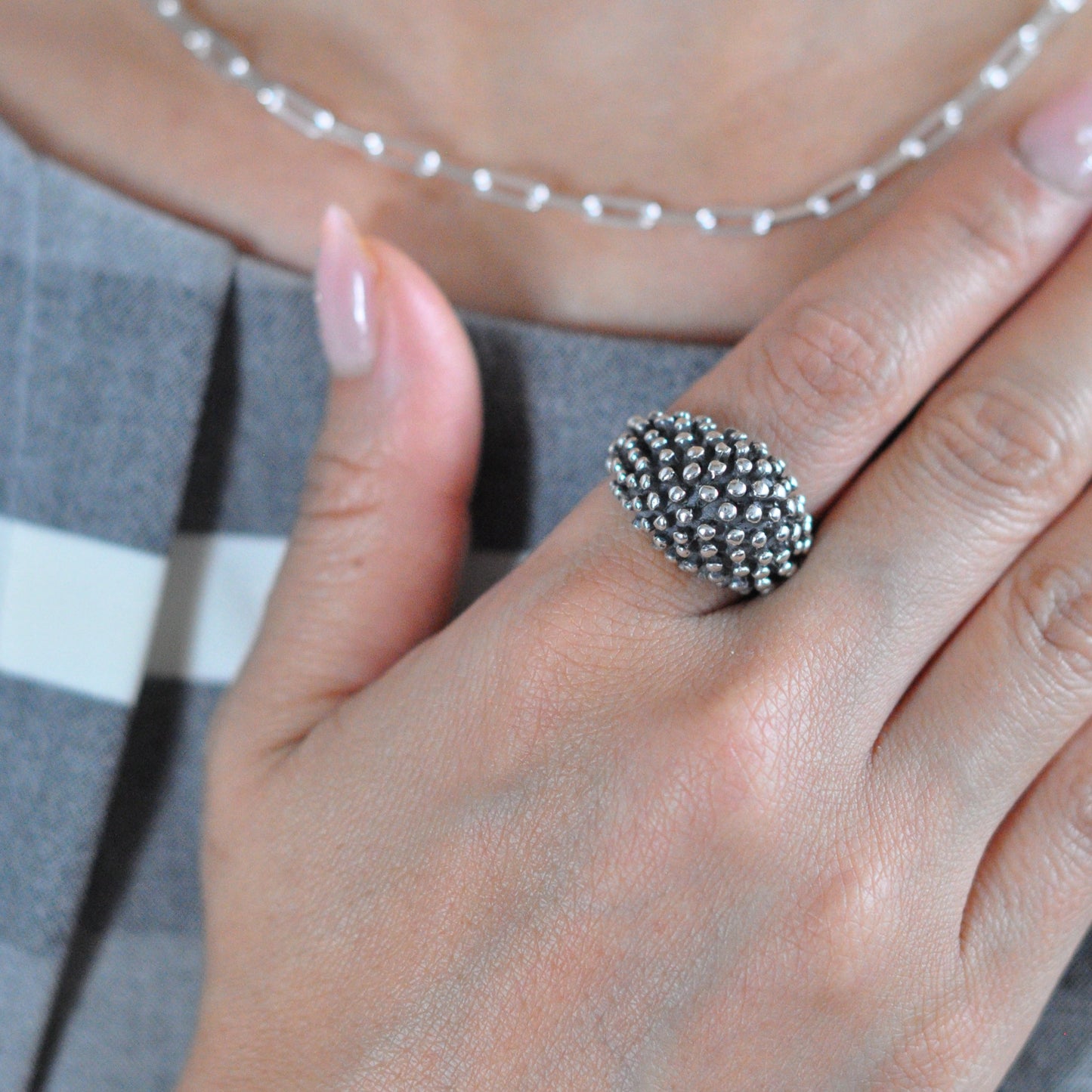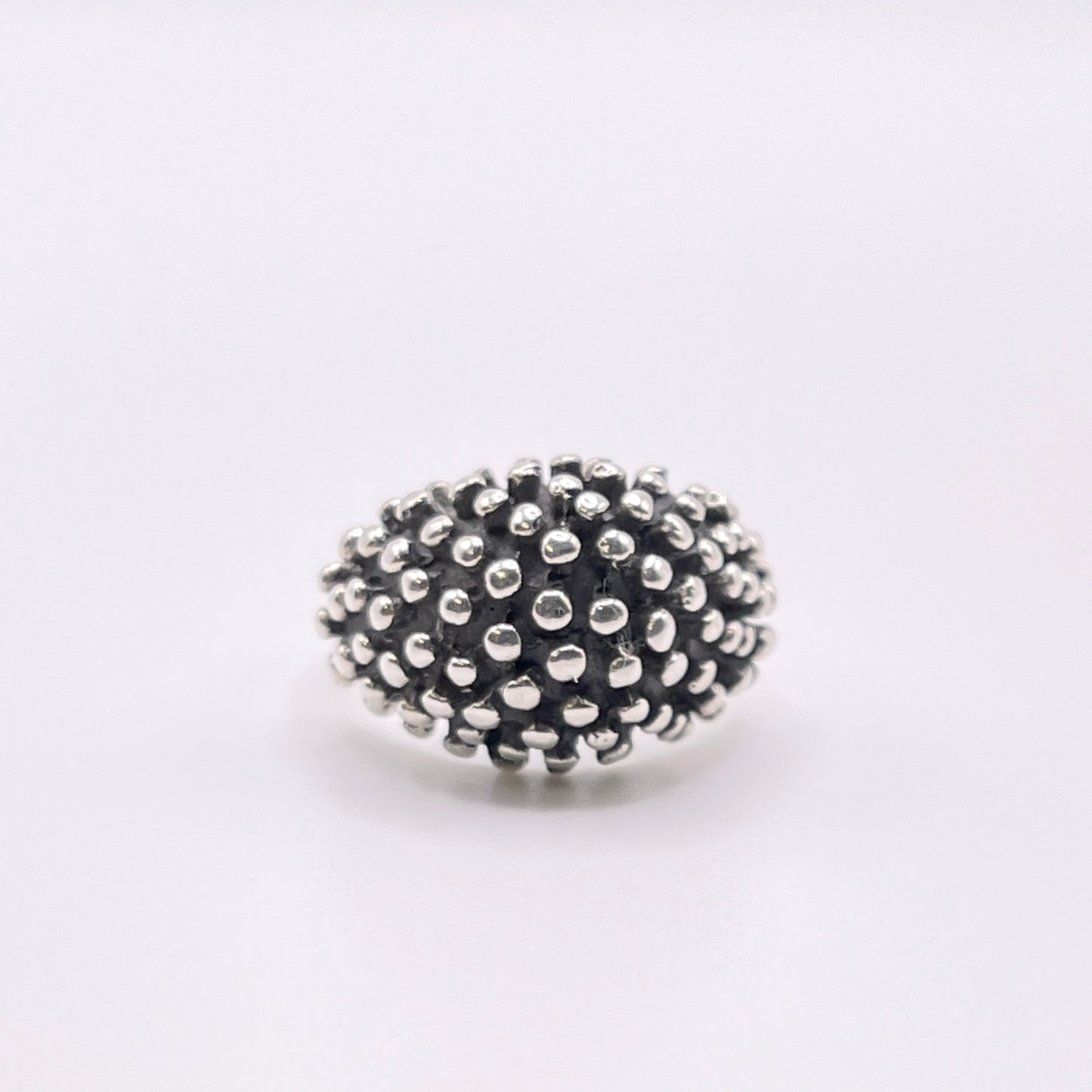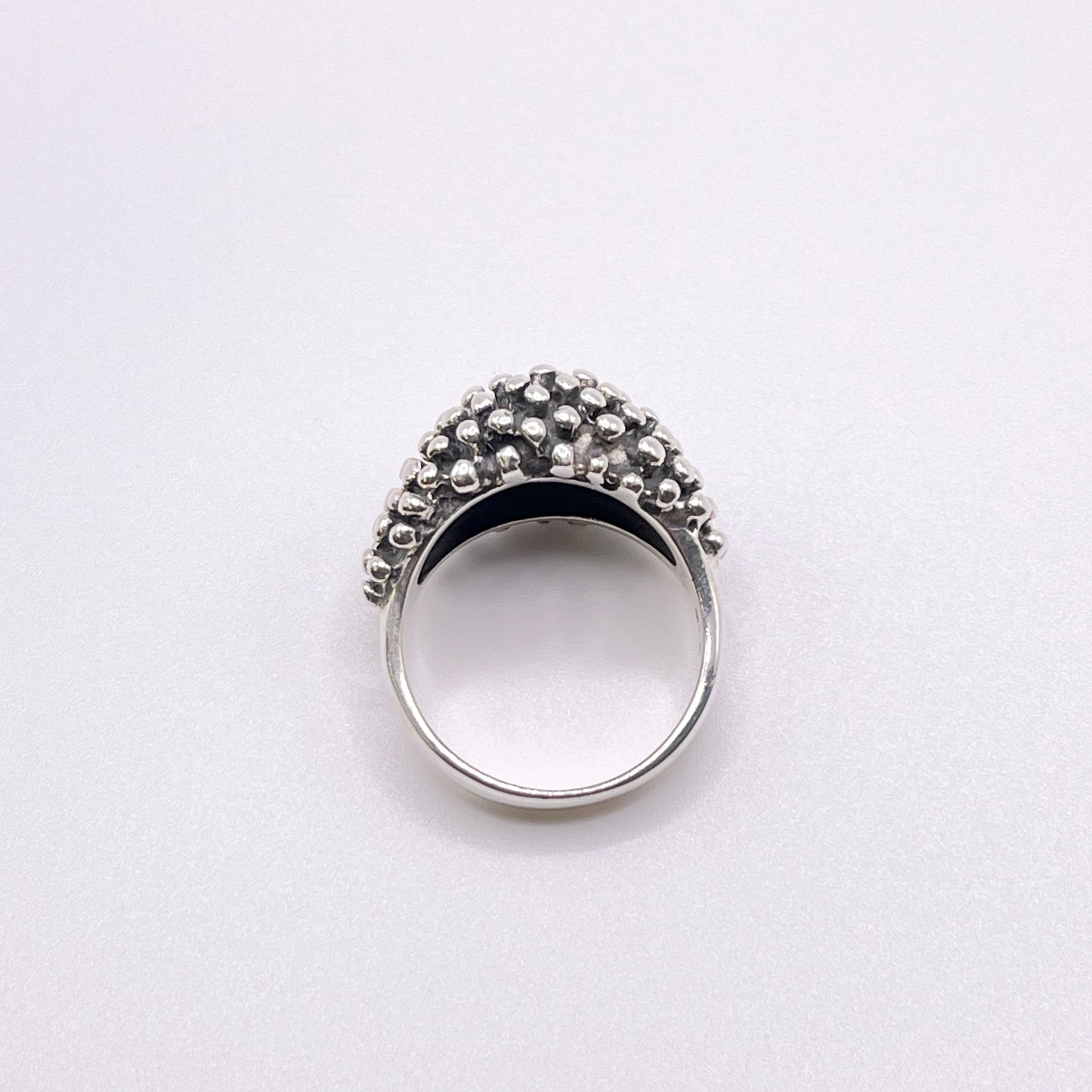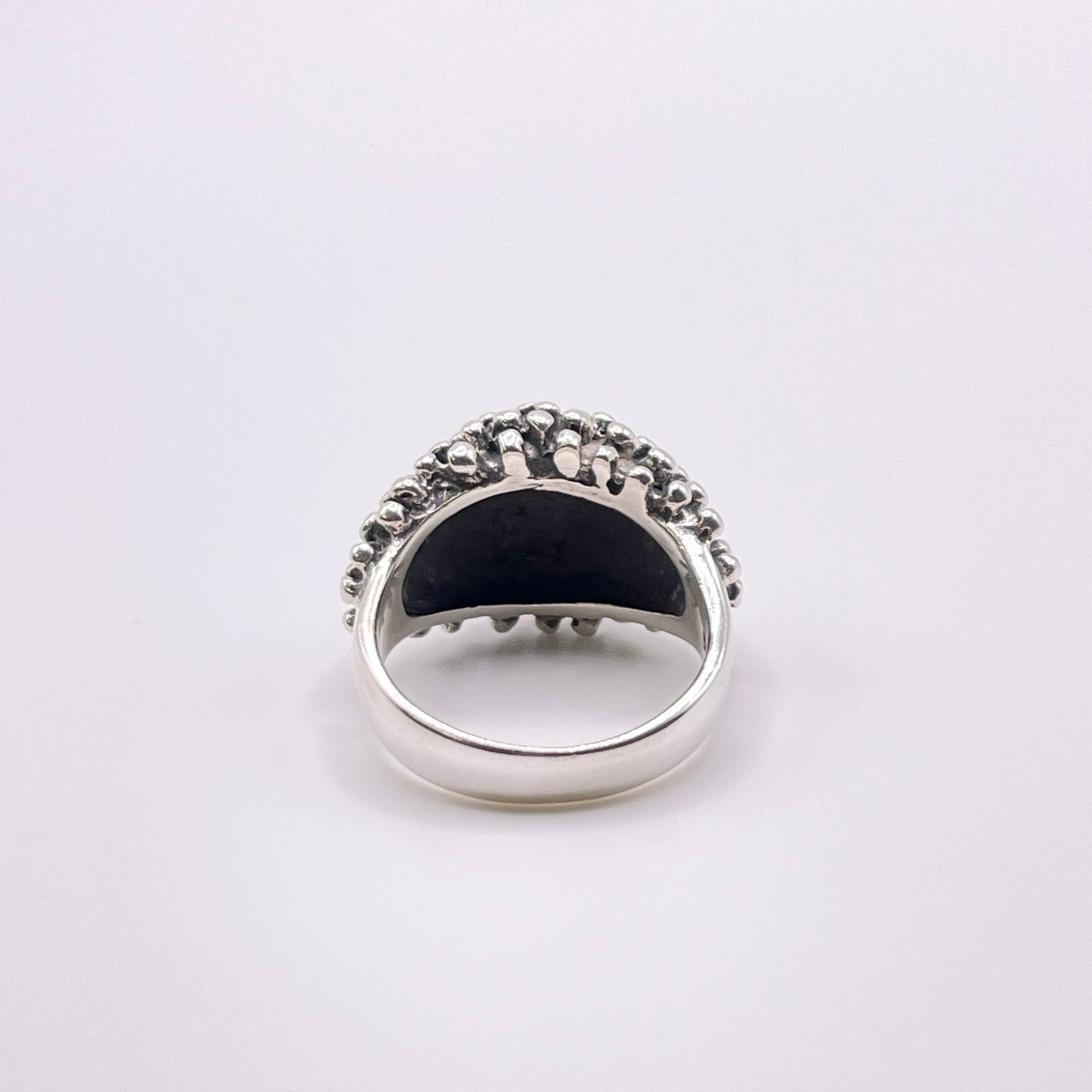 CARE & WARRANTY
JEWELRY
.925 STERLING SILVER JEWELRY CARE
Sterling Silver is a precious metal, therefore it requires special care to preserve its appearance and elongate its life. Our pieces are the industry standard of .925 Silver. Tarnish can occur if your piece is left exposed to heat, humidity or if it comes in contact with abrasive materials. When not in use, keep jewelry stored in a dry, cool place inside the provided pouch. Avoid contact with chlorine, bleach, cosmetics or strong chemicals as it can stain jewelry & other gemstones. Use a microfiber dry cloth to polish away tarnish or to clean your jewelry pieces.
HANDBAGS
PALM TREE & OTHER MATERIALS
Wipe clean with a wet or damp microfiber or cotton cloth. Natural variation of colors may occur as all of our items are handcrafted. Do not use abrasive products or bleach-based products. Test any cleaner in an inconspicuous place for color fastness. If wet, allow the handbag to dry naturally, do not apply heat as it might bend the palm tree. Do not wash in the washing machine. Do not tumble dry.
HATS
SUEDE
Avoid direct contact with water. If contact with water happens, lightly pad dry with a clean dry microfiber cloth and allow for natural drying. Do not apply heat as it will affect the shape of your hat and compromise the suede fabric. Avoid rubbing too hard or for too long to prevent damaging of suede fabric. Do not sit or bend on hat. Handle with care. Professional dry clean only. Before using any spray or other products, test in an inconspicuous place for color fastness.
SMALL LEATHERGOODS
LEATHER, HIDE & OTHERS
Avoid direct contact with water. If contact with water happens, lightly pad dry with a clean dry microfiber cloth and allow for natural drying. Do not apply heat as it will affect the shape of your piece and compromise the luxurious leather. Avoid rubbing too hard or for too long to prevent damaging. Handle with care. Professional repair or polishing. Before using any spray or other products, test in an inconspicuous place for color fastness